Introducing the new eBosser
...a fantastic new addition to any crafters tool kit, an absolutely gem of a crafting machine, you won't believe how easy it is to use!

Craftwell - Bringing crafters another great machine making life so easy and crafting so simple!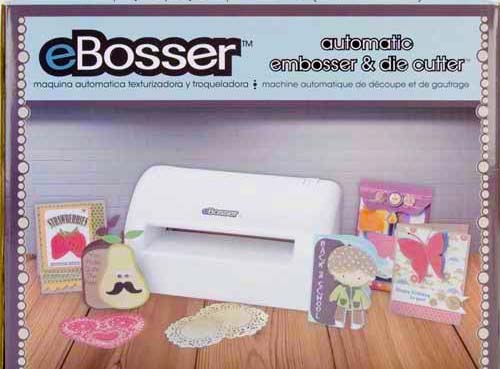 An introduction to the New eBosser by Craftwell showing you how easy it is to use, the indepth instructions booklet you get that shows you everything you need to know and just how easy and quick you will learn how to use your new crafting tool.
There's a new boss in town!
Introducing eBosser, the new cutting and embossing tool by Craftwell. Distributed in Europe by Crafter's Companion and as we are the Irish distributor for this machine, now available to purchase in our shop. This machine is the ideal embossing crafting machine that will become indispensable in your crafting room.
The eBosser will both cut and emboss for all your crafting needs, including fabulous frames, beautiful backgrounds and stunning borders.

The eBosser is universally compatible with most cutting dies & embossing folders! Use your favorite folders & dies or our large format embossing folders to create projects fast & easy!.

Fully automatic Letter & A4 size cutting is now here. Easily cut or emboss materials up to 8.5 inches wide & 12 inches in length..

The eBosser is a one-step automatic embossing & die cutting system. Simply turn on & insert your folder or cutting die with our platform system. Designed with safety in mind, the eBosser is perfect for home, school & professional use..

The eBosser is able to cut through multiple layers of fabric in one pass. Spend less time cutting & more time creating! The strength of the eBosser does not stop there: cut or emboss leather, wood & metal with ease too!.
No more hand cranking
The eBosser is fully automatic, making it perfect for those with dexterity problems
Compatible with most brands of cutting dies and folders
You'll receive all the cutting and embossing platforms you need in the box, so you'll be able to use all your dies and embossing folders in the machine straight away!
Cut multiple layers in one pass
The eBosser will cut through multiple layers of fabric in one pass and also cut or emboss leather, wood and metal with ease too!
Full A4 capacity
Emboss edge-to-edge with embossing folders up to A4 in size! You'll even get a free A4 embossing folder included in the box!
What do you get in the box?
You will recieve this fantastic ebossing crafting machine with a power adapter suitable for use in Ireland, instruction manual, all cutting and embossing platforms/plates, shims, mats and a FREE A4 embossing floder to get you started crafting straight away! So, you'll not have the added expense of buying additional plates with the eBosser!
eBosser is compatible with:
Die'sire
Craftwell eBosser Embossing Folders
Sizzix
Spellbinders
Cuttlebug
AccuCut
AccuQuilt
Ellison
QuicKutz
Lifestyle Crafts
Fiskars Fuse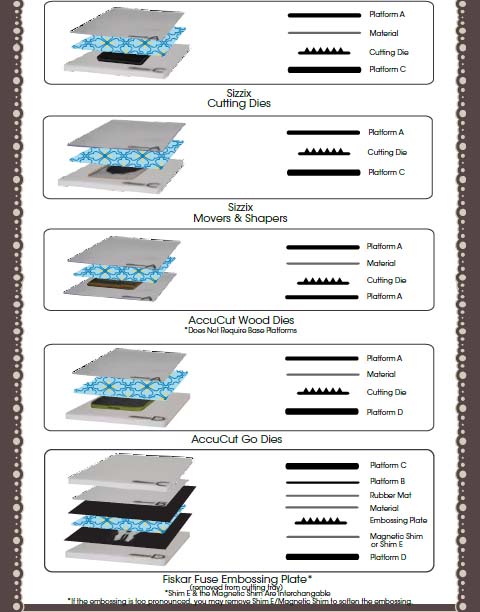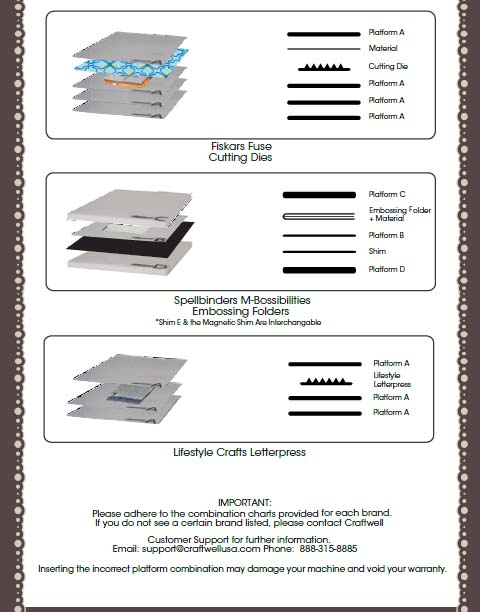 eBosser Reviews
"Loving my eBosser. Been having trouble hand cranking with my Epic6 and got this baby just in time for the holidays. It's been working great so far. My only problem has been remembering the sandwiches for the dies/folders I have. I really like the fact that it returns anything too tight to go through the machine." Tracey Jean
"I have the eBosser and just love it. It is really easy to use and if you go the craftwell website, you can print a 4 page guide for the different sandwiches for different dies. I can cut a page full of dies and each one just pops out. I also like the fact that I can use my sizzix originals and bigz dies in it as well." DigiNurse

"I have a Cuttlebug, then I got the Grand Calibur, then I got the Big Shot and because I was cutting so many types of dies, and the intricate ones from Memory Box and Cherry Lynn were hard to grind through when doing a few, I decided to get an electronic machine. My friend has the Vagabond and loves it, but it jams. I decided to get the Ebosser from Craftwell, and am I glad I did.
No jams at all, no matter what I put in. Does all my dies from every manufacturer. I have not found anything it can't do and it cuts material - 5 layers of cotton! Slices through grunge board like butter. Love, love, love this machine." CraftyLee